E-mail Me to subscribe
Contents ...
For beautiful landscapes and lands of imagination that are anything but gloomy, have a look at Conor Murphy's work later on in this newsletter. He's a local artist, and we've chatted about pushing the envelope on color use while still working within a "realistic" landscape idiom. It's a tricky balance, but Conor is an expert. For example, his
Silent Pond
captures the idea of the pond, the light and the mood.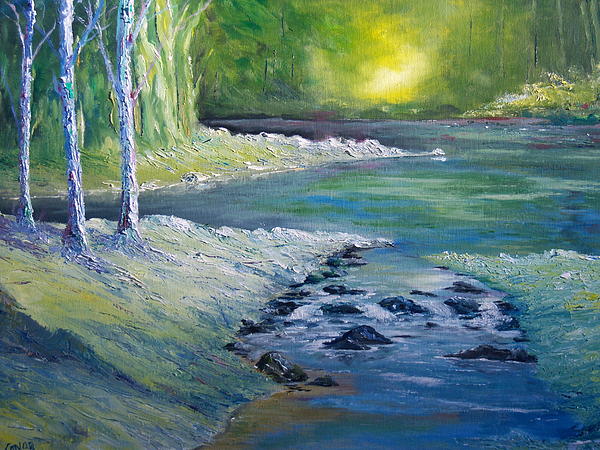 Conor Murphy surprises the viewer by using strong colors and expert impasto textures to suggest parts of the landscape. The result is a style and effect that is neither traditionally realist nor Impressionist, but is entirely Conor Murphy.
4. Meet local Boston area artist, Conor Murphy.
Conor Murphy was born in Cork Ireland and emigrated to the US in 1986, where he has been living ever since. He currently lives and works out of Duxbury, in eastern Massachusetts. He attended the School of Art in Cork City.
Conor makes a yearly trip back to Ireland, where he is inspired by its unique landscape. The mountains turn purple when the Heathers go to flower. He describes the west coast of Ireland as "God's place" – a special source of inspiration.
Conor Murphy paints primarily in oil, and he has expressed a love for Impasto style painting. A strong yet often subtle impasto approach permeates his landscapes. His careful and unexpected use of color and impasto texture results in landscape paintings that resemble little jewels. Gaze into these little painting jewels and be drawn into a dreamlike beautiful vision of a world that is part Old Ireland and part New England.
Email Conor
On the Edge of the Big Woods
Enjoy some of his recent work. You can head over to his website for more info and his current promotions.
Conor Murphy's Artist Website
The Lakes of Kilarney
The Grotto
Conor has been running an online auction for charity (almost finished!), featuring the painting
The blue hole of Belize
Conor Murphy's Artist Website
Table of Contents)