Hello and Happy New Year!
New For 2011
I have a new newsletter format, using a more reliable service. I think the look is cleaner, what do you think? There should be links to subscribe (if this was forwarded to you) or unsubscribe at the bottom of the email. This is now handled automagically, which saves me time spent squinting at spreadsheets and saves you hassle over human error.
I also have a new website of my very own, where I can organize all of my art and links online. It's called
The Nerdly Painter
, and don't forget the "L" in Nerdly. There is a companion blog
The Nerdly Painter blog
focusing on the Science of Art materials, and a new
Facebook page (Nerdly Painter)
to tie it all together. All of the in-text links in this newsletter will be spelled out at the end of the letter for anyone having HTML issues.
Whew! With all of this time at the computer, you may wonder whether there are any new paintings. I do have a few new paintings but no decent photos yet (I'm still trying to find a way to work around the snow for that good outdoor light.) I have 4 newly available high resolution prints, along with several paintings still in progress. During the winter I paint a lot of landscapes and seascapes because I miss the sun. I thought that perhaps putting painted sunlight onto canvas would help bring back the Spring, but so far it seems to be having the opposite effect. Maybe the snow will let up if I switch back to abstracts?
Our cats experiencing "Snow"
Since I've spent such a big chunk of time setting up the new website, blog, etc, this will be a short newsletter. Wintertime is a slow time for Art events in the Boston area. I think the mounds of snow may have something to do with this (and I know some places got it worse – you have my sympathy!).
Representation
I will be working with
Turning Art
to gain exposure for several of my drawings and paintings. As part of my agreement with them, they will have a period of exclusivity on the sale of the original works they represent (fairly standard with galleries). The forms are still going back and forth, so this is still tentative. They will be offering:
Merry go roundHorse (drawing), Still Point in a Sea Change (drawing),


Wood Grain Seascape with White Cats


I will still be able to offer prints, which will continue to be available in series of 100 (I will subtract any outstanding "Turning Art" Prints from the series to ensure that there are no more than 100). I am also beginning to reach out to offline galleries in New England and New York as well. Gallery representation is a positive step both an artist and for their collectors because the right gallery can provide something akin to a formal valuation of pieces of art.
Next Events
The next big upcoming confirmed event is the Melrose Arts festival on Aril 9,10 and 11. This is a fairly competitive juried event with a strong Fine Arts focus. I will post more when they get an event page online.
Contests


At first glance, "Edge of Eden" looks like a traditional Impressionistic or even Romantic landscape, but when you look up close some of the tree trunks and branches seem a bit like paint splatter. Well, they are. I like to incorporate randomness into the early stages and bottom layers of many of my landscape paintings. "Edge of Eden" is typical of the way I use randomness.
The painting was built up in layers, as most oil paintings are. In a traditional oil painting the composition and rough features would be sketched onto the canvas, using a neutral tone "lean" paint - thinned with solvent and no added oil. The next layer would fill in the main colors of the areas of the painting, then more detailed smaller areas of color, with fine lines and features painted in last. With each layer more oil would be added to the paint to follow the "fat over lean" rule and control the oxidation and reactant diffusion within the paint.
"Edge of Eden" is a twist on "fat over lean" oil painting. Instead of blocking out the landscape using thinned lean brown paint, thinned lean brown and green washes were splattered onto the canvas and allowed to drip down. Controlled dripping produces a complex pattern of lines and tones resembling tree trunks. Similarly complex "branch" patterns were created by turning the canvas to change the drip direction. Several layers of dripping background paint were applied to build up the rough appearance of a forest landscape. More oily, thicker paint splattered onto the canvas helped create a background leafy texture.
To bring out the foreground and create contrast with the soft colors produced by randomized paint, I picked out a number of tree trunks and sculpted them onto the canvas using impasto medium, a thick paste-like paint designed for thick layering. I mix several related colors of impasto in separate wells on the palette, along with a light and a dark contrasting color. I scoop a bit of each color onto the palette knife and use the motion of my wrist to create complex "realistic" looking combinations of color and texture that both sculpt the paint and resemble light and shadow. The final details were painted onto the canvas using more traditional techniques, but were selected to provide a counterpoint to the background and to emphasize the landscape subject.
If you go back up to the picture and click it, you'll be taken to my FAA page for "Edge of Eden" prints. Now that I have a high resolution file, the zoom feature is enabled. Click around the image and zoom different areas to see the layered construction of the painting. Can you see where the painted details were used to put the random splatters into a "landscape" context?
I have another contest to report on, and a great painter to introduce! The online print website that I use, FAA, allows people to set up different kinds of contests. I've found that it's a great way to discover other talented artists. For example, a recent contest for Abstract Painting inspired by by the Color Field paintings of the mid-Twentieth Century helped me discover some very good painters. Color Field painting was an offshoot of Abstract Expressionism, but was more focused on geometric placement of color and on the interplay of color within regular areas. The winner of the contest combined geometric areas of color with abstract patterns found in types of African Art to create a really interesting and engaging painting with a lot of energy.
His winning painting was titled "Transformation of the Black World". Prints are available on his
site
His statement:
I look upon Nature as a measure of Eternity,when rhythmically repeating processes in all spheres of life help us to understand Nature's laws and immense hidden power which under opposing pressure contracts like a spring and when the right time comes releases its force. Only small fragments of the distant Past without names or dates reach us and the Great Migration of Peoples is reflected only in myths and legends. In my paintings I try to convey the states of soul and body during the journey of Spirit. The processes of transformation are encoded in symbolic paintings. For this purpose I use the system of numbers,letters,colours and sounds.
New Prints


New as a print
: "Edge of Eden"
New Drawing
, "Schrodinger's Cat"
(the psi star psi's are in the whiskers)
New as a print
, "Lost Papers and Urban Plans"
New as a print
, "Emergent Order"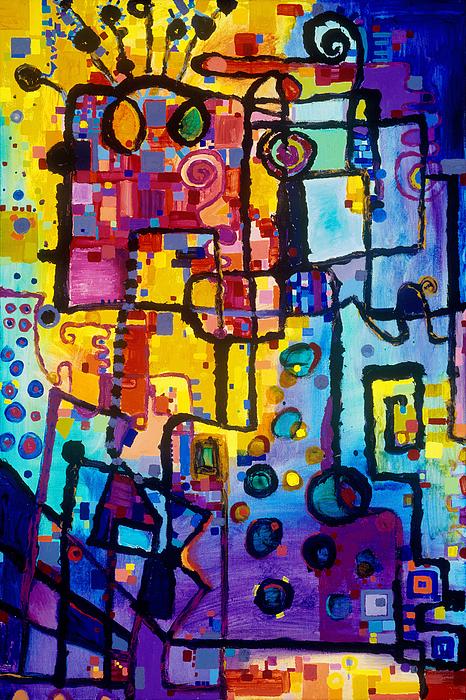 I hope to see you around - until next time
Warm Regards
Regina Valluzzi
-------------------------------------------------------------------------
HTML links
Nerdly Painter Website
http://www.nerdlypainter.com
Nerdly Painter Art and Science Blog
http://nerdlypainter.blogspot.com
Nerdly Painter on Facebook
http://www.facebook.com/NerdlyPainter
On twitter
@nerdlypainter
Profiles on big art sites
Redbubble
http://rvalluzzi.redbubble.com http://www.redbubble.com/people/rvalluzzi
FAA
http://regina-valluzzi.artistwebsites.com
Artslant
http://www.artslant.com/ny/artists/show/189327-regina-valluzzi